Das Livesound System VENUE | S6L von Avid ist auf einigen der größten Tourneen weltweit dabei.
Laut Avid wird das VENUE | S6L Livesound-System von den führenden Toningenieuren der größten Tourneen rund um den Globus eingesetzt. Als integrales Element der Avid-MediaCentral-Platform hilft das VENUE | S6L Ingenieuren wie Jim Warren und Mike Prowda (Radiohead), Paul "Pab" Boothroyd (Paul McCartney) oder Greg Nelson (Pearl Jam, Temple of the Dog), bessere Mixe und ein besseres, intensiveres Livesound-Erlebnis in kurzer Zeit und mit ergonomischem Workflow zu realisieren.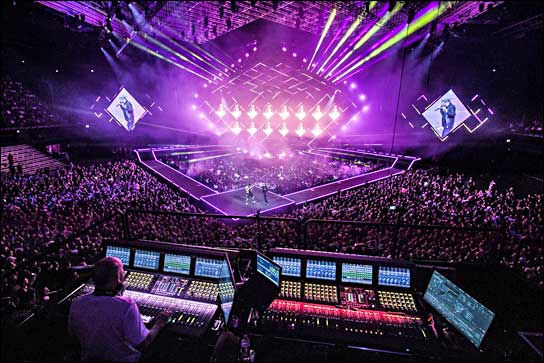 Auch er setzt auf Avid VENUE | S6L: Espen Alexander Husby in der Arena Oslo mit Norwegens Superstars Karpe Diem.
Gerard Albo, FOH Mixer mit Credits von Amy Winehouse über Patti Smith bis zu Tom Jones, verwendet Avid VENUE | S6L auf a-ha's Welttournee. "Die S6L ist so leistungsstark und gleichzeitig anwenderfreundlich. Der Umstieg von der Avid Profile-Konsole war für mich ganz einfach, und schon nach wenigen Probestunden wusste ich, dass diese Konsole mit auf Tour kommt. Der Touchscreen-Workflow ist rasant schnell, die Preamps sind erstklassig, ebenso die EQs und Dynamics. Damit macht es einfach Freude zu mixen."
Robert Nevalainen, Gründer von Gearforce Pro Audio Equipment Rentals, arbeitet als Monitormischer mit Bryan Adams. "Feine Details, fantastische Inputs – klanglich akkurat und musikalisch. Bei jeder Show habe ich diese 'Ich liebe diese Konsole'-Momente."
FOH Mixer Charles 'Chicky' Reeves hat viele Tourneen mit den VENUE-Konsolen absolviert. Mit Künstlern wie Prince, Grace Jones, Orchestral Manoeuvres in the Dark. "Ich brauchte nur eine halbe Probe, um mit der S6L klarzukommen. Der Sound hat mich total umgehauen. Zum ersten Mal hatte ich nicht das Gefühl, mit der digitalen Konsole kämpfen zu müssen."
Weitere Acts und Tourneen mit Avid VENUE | S6L: Greg Price und Myles Hale (Black Sabbath), Jason Decter (blink-182), Brad Madix (Linkin Park), Paddi Krause (In Flames), Chris Madden (Anastacia), Robb Allan (Massive Attack), Fern Alvarez Jr. und Steve McCale (Elvis Costello), Caram Costanzo (Guns N' Roses), Snake Newton und Charlie "Chopper" Bradley (Duran Duran), Sean "Sully" Sullivan (Red Hot Chili Peppers), Josh Osmond (The Lumineers), Keith "Meaux" Windhorst (Journey), Jody Perpick (Bryan Adams), Harley Zinker (Young the Giant), Aaron Glas (Fitz & the Tantrums), Grace Royse (Sublime with Rome) und Stefan Holtz (Die Toten Hosen, Marius Müller-Westernhagen).
"Mit der leistungsstärksten Processing Engine und einzigartigen Liverecording Features ist die Avid VENUE | S6L das führende Live Mixing-System," sagt Tom Cordiner, Senior Vice President Global Sales bei Avid.

"Mit Avid VENUE | S6L bieten wir unseren Kunden und Anwendern Werkzeuge, mit denen sie alle Ansprüche der komplexesten Produktionen komfortabel meistern."