Prolyte baut für HIGH AND SAFE als Sonderkonstruktion die D125RV für höchste Tragfähigkeit - und cast liefert.
HIGH AND SAFE, ein auf Rigging spezialisiertes Dienstleistungsunternehmen aus Remscheid, hat sich für eine Schwerlast-Sonderkonstruktion von Prolyte entschieden. Die nach Kundenwunsch gefertigte Schwerlast-Traverse erhielt die Bezeichnung D125RV.
Die Rigging-Spezialisten von HIGH AND SAFE besitzen bereits diverse Traversen aus dem Hause Prolyte – unter anderem B100RV und S66R –, stießen jedoch in letzter Zeit aufgrund der stetig wachsenden Anforderungen im Markt allgemein und im Touring-Geschäft im Besonderen mit dem bestehenden Material zunehmend an Belastungsgrenzen.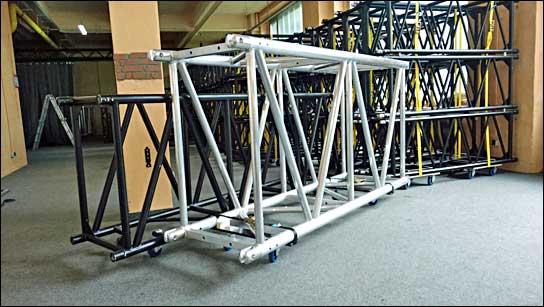 Die Custom-Schwerlast-Traverse D125RV von Prolyte für HIGH AND SAFE wurde von cast geliefert.
Die D125RV passe hervorragend in das Produktportfolio des Unternehmens, das mehrere große Veranstaltungshallen in Nordrhein-Westfalen betreut. Wie der Name schon vermuten lässt, ist die Custom-Traverse 125 Zentimeter hoch. Die Breite liegt bei 75 Zentimetern. Als technische Grundlage des Sonderbaus nutzte Prolyte die D75T-Schwerlasttraverse.
Mike Abt und Henning Hackerschmied, die beiden Geschäftsführer von HIGH AND SAFE, sind überzeugt von dem neuen Produkt und danken für die tatkräftige Unterstützung bei dessen Entwicklung.
"Haupteinsatzzweck unserer Traversensysteme ist das Errichten temporärer Sekundärtragwerke", erklärt Henning Hackerschmied.

"Dabei gibt es zweierlei Aufgabenstellungen: Recht einfach ist es, zwischen zwei vorhandenen Hängepunkten in einem Dachtragwerk, das konstruktiv keine Bridle zulässt, mit Hilfe einer Prerigg-Traverse die gewünschte Position zu erreichen. Dafür reichen in der Regel kleinere Traversensysteme aus.

Kommt es jedoch dazu, dass die Binder eines Dachtragwerks, die die Gesamtheit aller Hängepunkte einer Produktion aufnehmen sollen, überlastet würden, wird geprüft, ob eine Realisation durch lastverteilende Maßnahmen auf benachbarte Binder möglich wäre."
"Um mehrere Binder zu überbrücken, sind oft Spannweiten von mehr als 20 Metern zu realisieren – eine Aufgabe, der die Prolyte B100RV Traversen eigentlich gewachsen sind. Der einschränkende Faktor ist jedoch die verbleibende Belastbarkeit bei derartigen Spannweiten", fährt Hackerschmied fort.
Da in jüngerer Vergangenheit vor allem Musik(tour)-Produktionen immer komplexer und damit meist auch schwerer geworden seien, wurde die Frage der Lastverteilung immer drängender. So sei schnell klar geworden, dass der Traversenbestand nach oben hin erweitert werden müsse.
Zwar waren die Superschwerlast-Traversen des Prolyte Mammoth Groundsupports – D75T und M145RV –  bereits verfügbar; jedoch seien die Schnittgrößen der D75T noch nicht ausreichend und das Fachwerkdesign der M145RV für die Zwecke von HIGH AND SAFE noch nicht ganz optimal gewesen. So entschloss man sich, mit Prolyte über einen "Zwischentyp" zu sprechen. Relativ schnell wurde klar, dass sich auf Grundlage der D75T eine universelle Lösung in Form der D125RV schaffen ließe.
"Das Fachwerk wurde etwas engmaschiger als bei der M145RV ausgelegt, um den Abstand möglicher Auflager zu verringern. Man hat sich bewusst für das 80 x 10 Millimeter starke Hauptrohr der D75T entschieden, um die riesigen Kräfte überhaupt in die Traversen einleiten zu können ohne sie zu beschädigen. Auch das Maß von 25.00 Millimetern Länge pro Element wurde bewusst gewählt, um die Traversen möglichst gut handeln zu können", beschreibt Hackerschmied die Eigenschaften der D125RV.

"Mit der D125RV ist sicher nicht nur eine Sonderlösung aus einmaligem Anlass entstanden, sondern eine durchdachte, in enger Zusammenarbeit mit dem Anwender entwickelte Superschwerlast-Traverse für große Spannweiten und enorme Belastungen", betont Hackerschmied abschließend.
Die Traversen wurden ausgeliefert durch die cast C.ADOLPH & RST DISTRIBUTION GmbH aus Hagen, das einzige Prolyte Heavy Duty Competence Center in Deutschland.
HIGH AND SAFE

Die HIGH AND SAFE Abt & Hackerschmied GbR bietet von der Planerstellung über die Machbarkeitsanalyse bis hin zur Gewerkeleitung und Produktionsdurchführung ein breites und fachlich fundiertes Leistungsspektrum im Bereich Rigging. Das Unternehmen betreut Konzerte, TV-Shows, Messen, Corporate Events und Festinstallationen.