Murasch and Sons aus Potsdam investiert in ELATION Proteus Beam mit IP-65-Zertifizierung.
Lichtdesigner Lars Murasch, der mit Murasch and Sons ein in Potsdam ansässiges Studio für Lichtdesign betreibt, hat jüngst in sechs ELATION Proteus Beam investiert. Kompakt, robust und budgetschonend, erfüllt der erste IP-65-zertifizierte Movinghead mit Entladungslampe im ELATION-Portfolio die zentralen Anforderungen in der alltäglichen Praxis.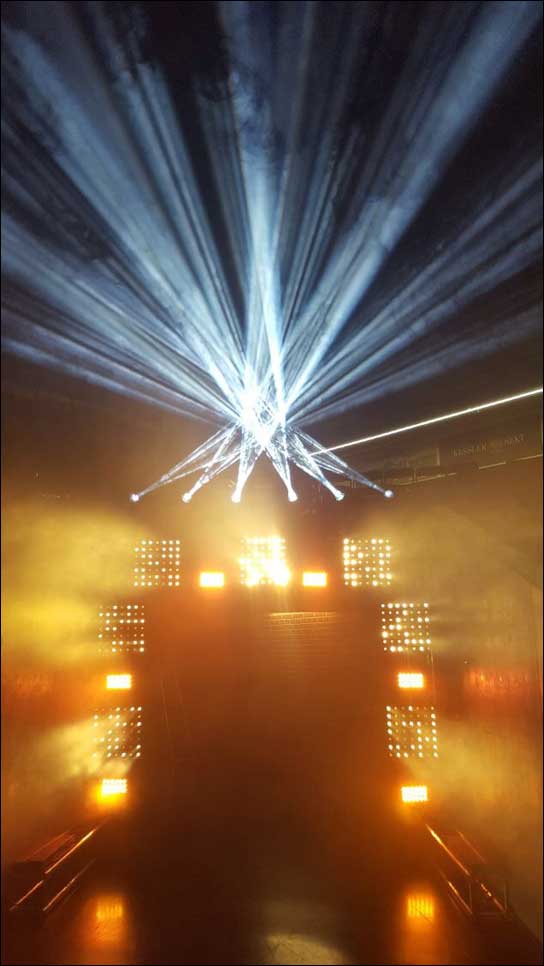 Ideal für Festivals: ELATION Proteus Beam im Einsatz bei Murasch and Sons (Foto: Murasch and Sons).
Mit der Proteus-Serie macht ELATION Schluss mit kostenintensiven Domes und Schutzabdeckungen sowie den häufigen Kompromissen, die beim Einsatz von IP-zertifizierten LED-Scheinwerfern entstehen.
Lars Murasch zu seiner Entscheidung: "Ich habe die Proteus Beam von ELATION für den Einsatz auf diversen Festivals gekauft. Die Lampen sind wetterfest und brauchen keine Airdomes.

Das spart nicht nur Geld, es sieht ohne Domes auch einfach besser aus. Mir gefällt der massive Output der Lampe. Außerdem lassen sich mit dem 32-fach-Prisma tolle Effekte erzeugen."
Murasch plant, seinen Bestand an den wetterfesten Proteus Beam bis zum Jahresende auf zwölf Geräte zu erweitern.
Ausgestattet mit der neuen Philips 14R 280-W-Lampe sowie einem fortschrittlichen optischen System inklusive Fokus, produziert der Proteus Beam einen hellen, äußerst präzisen 2°-Beam. Darüber hinaus verfügt der Movinghead über eine voll ausgestattete CMY-Farbmischeinheit, ein 13-faches dichroitisches Farbrad (inklusive Quad-Color, CTO, CTB und UV), acht rotierbare, austauschbare sowie 13 statische Gobos.

Zur Beam-Gestaltung und -Formung können Anwender unter anderem auf ein 5-fach und ein 32-fach rotierbares Prisma sowie einen Frost-Filter für einen weichen Wash-Effekt zurückgreifen.