ESC 2017 in Kiew mit Elation
12.04.2017
Jerry Appelt nimmt über 800 Scheinwerfer von Elation mit zum Eurovision Song Contest 2017. Produktionsleiter ist Ola Melzig.

Elation Professional freut sich über die Bekanntgabe, mit über 800 Geräten im Licht-Rig des kommenden Eurovision Song Contest - vom 9. Bis 13. Mai in Kiew in der Ukraine - vertreten zu sein. Als einer der offiziellen Event-Supplier wird Elation bei der diesjährigen Show von Lichtdesigner Jerry Appelt und Produktionsleiter Ola Melzig für das spektakuläre Lichtdesign eingesetzt.
"Die Mitwirkung am Eurovision Song Contest ist ein enorme Gelegenheit für Elation – nicht nur mit Blick auf Europa, sondern weltweit", sagt Eric Loader, Director of Sales & Marketing bei Elation.

"Das gesamte Elation-Team freut sich auf die Mitwirkung und fühlt sich geehrt, dass unsere Produkte von einem Team aus Weltklasse-Designern für eine der größten Shows überhaupt ausgewählt wurden. Die Designer werden den Zuschauern rund um den Globus zeigen, wie gut die Elation-Produkte auf einer der weltweit größten Bühnen funktionieren."
Ein wesentlicher Faktor bei der Entscheidung für Elation war ESC-Produktionsleiter Ola Melzig, der bereits nach der PLASA 2016 Interesse an den Scheinwerfern des Herstellers zeigte: "Wir sind begeistert, Elation in diesem Jahr als einen unserer technischen Ausrüster zu haben. Die Produktpalette passt ideal zu dieser Show, und glauben Sie mir, wir müssen absolutes Hardcore-Lighting wie dieses haben, um die Herausforderung zu meistern."
Marc Librecht, Sales and Marketing Manager bei Elation Europe, ergänzt: "Seit dem ersten Moment der Zusammenarbeit mit Ola und Jerry war für uns klar, welche besondere Gelegenheit der Eurovision Song Contest für uns darstellt. Wir freuen uns außerordentlich, dass die beiden auf uns vertrauen und ihnen gefallen hat, was sie sowohl hinsichtlich unserer Produkte, als auch auf persönlicher Ebene von uns gesehen haben.

Der ESC ist der angesehenste Event, bei dem Elation in Europa jemals eine so bedeutende Rolle gespielt hat und ein Meilenstein für unser andauerndes Wachstum auf dem europäischen Markt."
Premiere in Kiew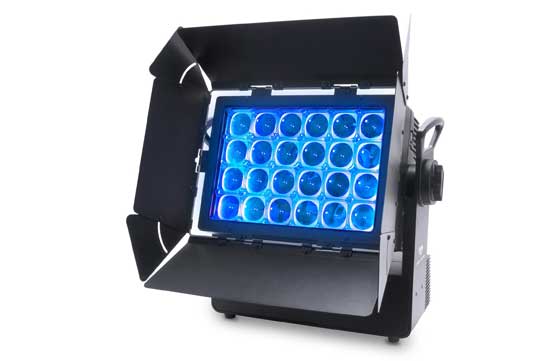 Elation Paladin: Stroboskop, Washlight und Blinder in einem Gerät.
Für den Eurovision Song Contest 2017 stellt Elation einen Großteil der intelligenten Beleuchtung. So feiert das brandneue Paladin-Vollfarb-Effektlicht als Kombination aus Stroboskop, Washlight und Blinder in Kiew sein weltweites Debut.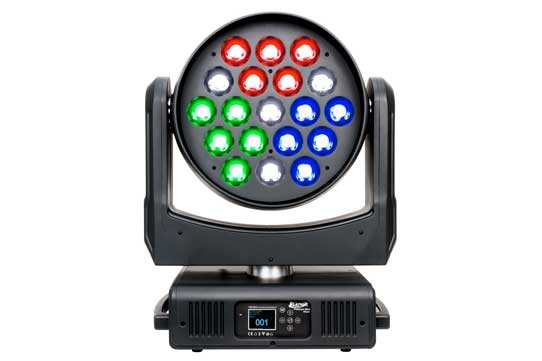 Weil es in Kiew richtig hell werden muss: Elation Platinum Wash 1200.
Zudem setzen Melzig und Appelt mit dem neuen Platinum 1200 Wash auf das hellste LED-Washlight aus dem Elation-Portfolio. Ebenfalls im ESC-Rig hängen das Platinum Seven-LED-Washlight, SixBar 1000-LED-Bars sowie der preisgekrönte Platinum FLX-Hybrid-Movinghead.