GreenGo Intercom auf der Expo
26.06.2015
GreenGo Intercom-System im kasachischen Pavillon auf der Mailänder Weltausstellung EXPO 2015.

Unter dem Motto "Feeding the Planet – Energy for Life" präsentiert die EXPO 2015 in Mailand von Mai bis Oktober Wege hin zu einer nachhaltigen globalen Entwicklung unter Berücksichtigung modernster Technologien. 145 Länder präsentieren sich und ihre jeweiligen Strategien in meist spektakulärem Ambiente.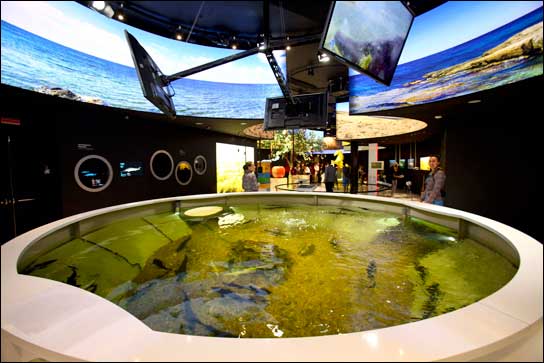 Im kasachischen Pavillon auf der Expo arbeitet ein GreenGo Intercom-System im Hintergrund. Fotos: Daniele Mascolo / Expo 2015.
Als "Land of Opportunities" möchte sich Kasachstan verstanden wissen. Das Gastgeberland der EXPO 2017 stellt seine traditionelle nomadische Kultur im Spannungsfeld landwirtschaftlicher Ressourcen und nachhaltiger Entwicklung auf 2.396 Quadratmetern vor.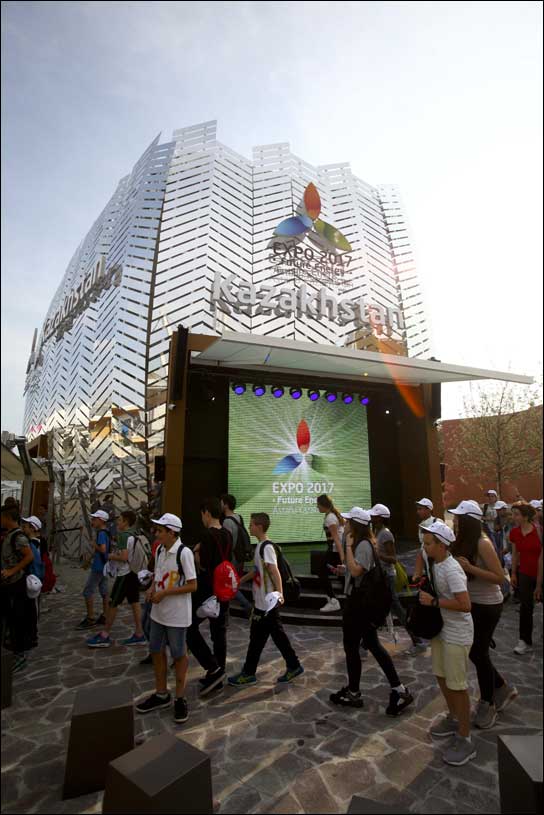 Der Pavillon selbst präsentiert sich in modernster technischer Gestalt. Der Full-Service-Dienstleister Blue Noise aus Hamburg stellt mit einem GreenGo Intercom-System sicher, dass die Kommunikation hinter den Kulissen reibungslos verläuft.
Die Multimediatechnik des kasachischen Pavillons umfasst einen Regieraum, zwei separate Technikräume, einen Backstagebereich sowie einen Outdoor-FOH. Alle genannten Bereiche waren mit einem Kommunikationssystem untereinander zu vernetzen.
Blue Noise verantwortet die Beschallung und die Multimediatechnik des Pavillons und siedelte das Intercom-System im Audio-Gewerk mit an. Installiert wurde eine GreenGo MCR12 19" Rackstation in Verbindung mit insgesamt acht GreenGo GBP2B Zweikanal-Beltpacks. Das Audiosystem des Pavillons basiert auf einem komplexen DANTE-Netzwerk, welches als Glasfasernetzwerk durch den gesamten Pavillon geführt wird.
"Es bot sich an, das Intercom auf die gleiche Struktur mit aufzusetzen", erläutert Hendrik Rogel, Geschäftsführer Blue Noise. "Was den erforderlichen Funktionsumfang betrifft, hätte grundsätzlich ein klassisches Party-Line-Netzwerk genügt, jedoch konnten wir durch Nutzung der Glasfaserverkabelung Masseschleifen vermeiden."
Das flexible GreenGo Intercom-System bringt alle Features und noch mehr mit, die man heute von einem Intercom erwarten darf, verzichtet jedoch auf eine kostenintensive zentrale Matrix, indem es sich auf die bereits vorhandene Netzwerkinfrastruktur aufsetzen lässt (PoE). Äußerst geringe Latenzen innerhalb des Netzwerkes, variable Größe (zwei bis 3.000 User) und Vollduplex Sprachverbindung runden das Profil des GreenGo Intercoms ab.
Hendrik Rogel, der sich das System im Vorfeld der Erstinstallation im kasachischen Pavillon schon mehrfach auf Messen und im Test angeschaut hatte, schätzt besonders "dass das GreenGo eine neuartige Kommunikationsmatrix darstellt, die zudem viele zukunftsweisende Features beinhaltet – und das alles auf Basis eines normalen Netzwerkes und nicht zuletzt zu einem attraktiven Preis".
GreenGo-Produkte werden deutschlandweit exklusiv vertrieben von der cast C.Adolph & RST DISTRIBUTION GmbH.