National Football League Intercom
28.10.2015
Das GreenGo Digital Intercom wurde erfolgreich in das Instant-Replay- und Injury-Review-System der NFL eingebunden.

Die amerikanische National Football League (NFL) nutzt seit dieser Saison GreenGo Intercom innerhalb ihres Instand-Replay-und Injury-Review-Systems. Bei diesem speziell für die NFL genutzten Instand/Injury-Systemen geht es unter anderem um den direkten Kontakt zwischen den Schiedsrichtern und dem obersten Schiedsrichter in New York während des Spiels.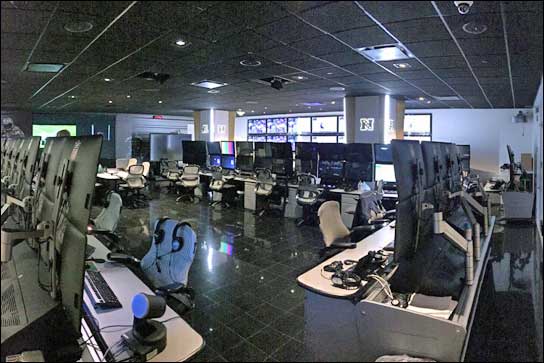 Das NFL-Studio arbeitet nun mit einem Intercomsystem von GreenGo.
Dafür hat GreenGo eigene bereits existierende Produkte nach umfangreichen Tests so modifiziert, dass sie ganz genau die Anforderungen der NFL erfüllen.
"Wir waren extrem zufrieden, wie aufgeschlossen und flexibel GreenGo und Nova Lume, der amerikanische GreenGo-Distributor, sich während der Entwicklung der Produkte und der zugehörigen Software gezeigt haben, um unsere Anforderungen genau umzusetzen", sagt John Cave, Vice President of Information Technology der NFL.

"Es ist sehr wichtig für uns, dass GreenGo eine Lösung entwickelt, die viele Jahre genutzt werden kann und zum Standard wird."
Das GreenGo Digital Intercom bietet bis zu 32 Kanäle mit bis zu 250 Gruppen und 3 000 Nutzern, was der Liga die Möglichkeit separater Gruppen und Nutzer-zu-Nutzer-Kanäle auf und außerhalb des Spielfelds bietet. Die Fähigkeit des Systems, direkt an das existierende Schiedsrichter-an-Schiedsrichter-Funksystem angekoppelt zu werden, nebst einem neuen 2-Nutzer-4-Kanäle-19"-Pult, erlaubt es dem Oberschiedsrichter in New York, direkt und unter vier Augen in jedem Stadion mit dem Schiedsrichter auf dem Feld zu sprechen.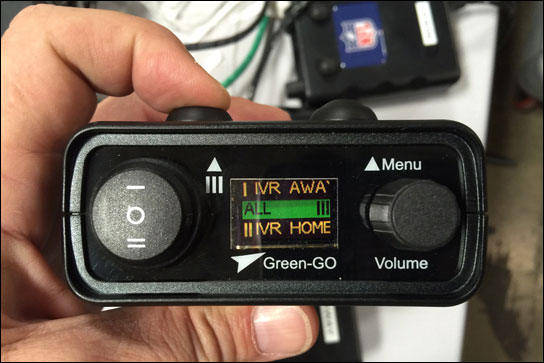 GreenGo hat außerdem ein 3-Kanal Beltpack, ein neues Audio-Interface mit mehreren Verbindungsoptionen und ein neues Bridge-Interface entwickelt, das eine Verbindung zwischen zwei Nutzern an jedem Pult in New Yorks Art McNally Gameday Central herstellt und sie direkt mit dem Stadion verbindet.
Weiterhin ist GreenGo mit Leichtigkeit in der Lage, kurzfristige Änderungen durchzuführen, was auf der einfachen Konfigurierbarkeit der Software beruht. Ein Beispiel: Ein Kanal, der einem "Injury Spotter" zugewiesen ist, erlaubt es diesem, mit den Offiziellen und dem Replay-Team im Falle einer Spielerverletzung auf dem Spielfeld zu sprechen, ohne Unterbrechung oder dem Erzeugen einer Störung mit der Instant-Replay-Gruppe.
Das neue Intercom-System wurde von den Firmen GreenGo, Nova Lume, Bexel und Diversifies Systems in 31 Stadien und anderen Orten installiert, einschließlich Tom Benson Hall of Fame Stadium in Canton, Ohio, Wembley Stadium in London und dem Art McNally Gameday Central in New York.
"Wir haben mit unseren Partnern von Bexel, Diversified und der NFL zusammengearbeitet, um dieses neue System rechtzeitig für die Vorsaison im August zu verwirklichen", sagt Jim Casey, Geschäftsführer von Nova Lume.

"Dadurch waren wir in der Lage, die Installation pünktlich fertigzustellen."
Das System wird in Deuschland von der cast C.Adolph & RST Distribution GmbH in Hagen vertrieben.