Die Gewinner des "Opus – Deutscher Bühnenpreis 2018" stehen fest.
Siegerprojekte sind die "THE ONE Grand Show" im Berliner Friedrichstadt-Palast sowie die "The Blossom Tour" der deutschen Pop-Band Milky Chance.
Mit dem Opus werden jährlich besondere Leistungen auf dem Gebiet der Theater- und Bühnenproduktion prämiert. Die Preisvergabe erfolgt am Donnerstag, den 12. April im Rahmen der Prolight + Sound, der internationalen Messe der Technologien und Services für Entertainment, Integrated Systems und Creation.
Kategorie "Technische Realisation – Festinstallation": THE ONE Grand Show
Bereits vor der Weltpremiere im Oktober 2016 bescherte die Revue dem Berliner Friedrichstadt-Palast einen neuen Vorverkaufsrekord. "THE ONE Grand Show" entführt den Besucher in eine Traumwelt zwischen Vergangenheit und Gegenwart und beschreibt die Geschichte eines jungen Mannes auf der Suche nach dem einen Menschen, der alles für ihn bedeutet.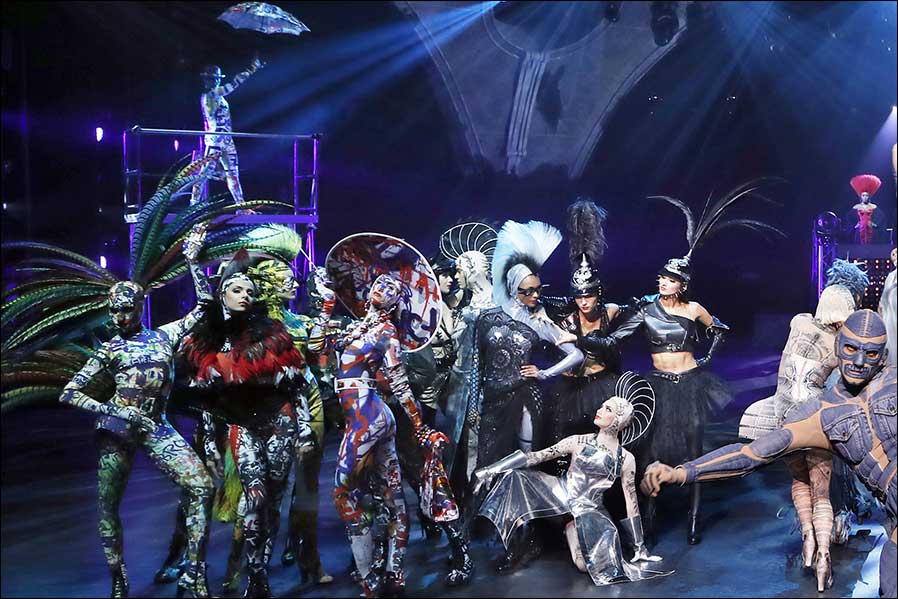 Der Opus 2018 in der Kategorie "Technische Realisation – Festinstallation" geht an THE ONE Grand Show (Foto: DAVIDS, Sven Darmer )

Große Aufmerksamkeit in der internationalen Theaterszene erhielt das Stück durch die Zusammenarbeit mit dem französischen Stardesigner Jean Paul Gaultier. Über 500 opulente Kostüme kreieren ein Meer aus Farben und Eindrücken auf der größten Theaterbühne der Welt. Neben den beeindruckenden Choreographien aus Tanz, Artistik und Gesang überzeugte die Opus-Jury besonders die technisch aufwendige Inszenierung.
Auffälligster Bestandteil des Bühnenbildes sind vier dreidimensionale Dekorelemente, die mit ihrer optisch durchlöcherten Oberfläche eine Reminiszenz an einen alten, maroden Theatersaal erzeugen. Diese eignen sich gleichermaßen zur klassischen Beleuchtung als auch für Aufprojektion und Durchleuchtung, wirken dabei massiv, ohne die Entfaltung des Klangs zu beeinträchtigen.
Ebenso imposant ist das Showdeck, das sich aus schollenförmigen, schienengeführten Bühnenwagen zusammensetzt und ein "Aufbrechen" des Bühnenbodens erlaubt. Darüber hinaus besticht die Inszenierung von Produzent Dr. Berndt Schmidt und Regisseur Roland Welke durch den kreativen Einsatz von Spezialeffekten wie Schwarzlicht, Feuer, Wasser und Nebel.
Kategorie "Production Design - Tournee": Milky Chance "The Blossom Tour"
Obwohl Milky Chance noch eine sehr junge Band sind, haben die zwei Kasseler Musiker seit 2013 bereits 25 Gold- und Platinauszeichnungen gewonnen und internationale Charterfolge gefeiert. Sie haben einen ganz eigenen Sound entwickelt, mit dem sie auf der ganzen Welt erfolgreiche Konzerte spielen.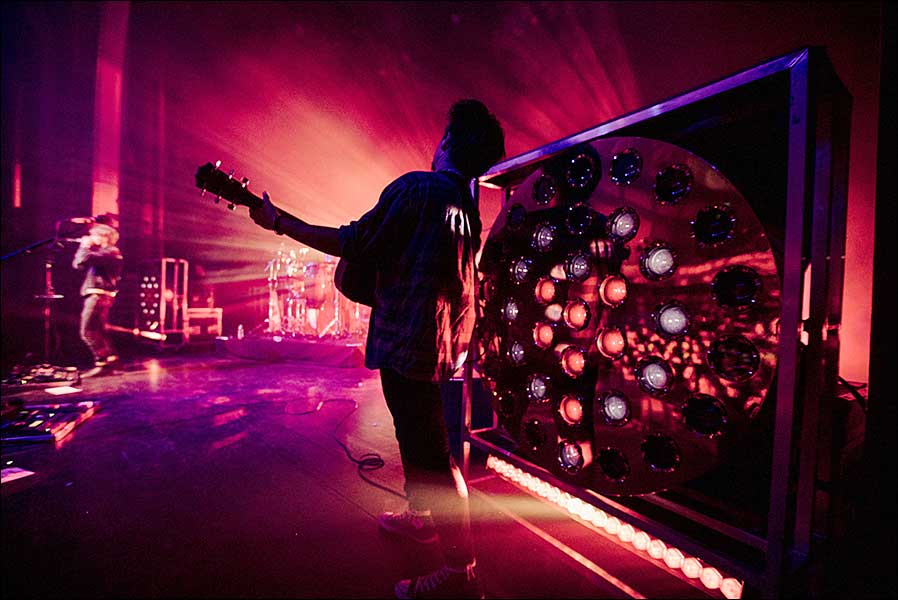 Der Opus 2018 in der Kategorie "Production Design - Tournee" geht an die "Blossom"-Welttournee von Milky Chance (Foto: Anthony Monlina)
Ganz in diesem Sinne wurden ihre Auftritte auf der "The Blossom Tour" von einem ebenso außergewöhnlichen wie individuellen Bühnen- und Lichtdesign visuell untermalt. Trotz eines limitierten Budgets und hoher logistischer Anforderungen wurde eine Show gestaltet, die mit reduzierten Mitteln ein hohes Maß an Flexibilität bietet. Sie schafft ebenso dichte wie spannende Bilder, die mit der Musik zu einer Einheit verschmelzen.
In Anlehnung an das Cover-Motiv des zweiten Milky-Chance-Albums "Blossom" bilden bewegliche, kupferne Elemente den Mittelpunkt des Bühnendesigns. Diese sind Gestaltungselement und Leuchtmittel zugleich, sodass sowohl durch kontrolliertes Kunstlicht als auch durch die unkalkulierbare Reflektion des Tageslichts auf der metallischen Oberfläche immer wieder neue Lichträume entstehen.
Das gesamte Design ist so durchdacht, dass es nicht nur in den Tourbus-Anhänger passt, sondern bei zahlreichen Auftritten in Übersee in einem Universal-Cargo-Flugcontainer transportiert werden kann. Konzipiert wurde die gesamte Show von Designer JoJo Tilmann, der seit langem eine feste Größe im deutschen und internationalen Tourneegeschäft und auch als Lichtkünstler erfolgreich ist.
Opus – Deutscher Bühnenpreis
Der Opus ehrt herausragende Bühnenprojekte und wird seit 2002 jährlich im Rahmen der Prolight + Sound verliehen. Eine Jury von Branchenexperten aus Wirtschaft, Verbänden, Fachpublikationen sowie Vertretern der Messe Frankfurt würdigt neue, herausragende Ansätze des kreativen Einsatzes von Technik. Träger des nicht-dotierten Ehrenpreises sind der Verband für Medien- und Veranstaltungstechnik (VPLT), der Europäische Verband der Veranstaltungs-Centren (EVVC) und die Messe Frankfurt GmbH.