PRG auf der BOE 2017
11.01.2017
Ein weiteres Mal präsentiert sich PRG XL Video auf der Best of Events im richtig großen Stil.

Auf der kommenden BEST OF EVENTS (BOE) am 18. und 19. Januar 2017 in Dortmund präsentiert sich PRG XL Video erneut als leistungsstarker Anbieter für die Ausstattung und Durchführung von Veranstaltungen.

Der Auftritt knüpft dabei an das erfolgreiche Konzept aus dem letzten Jahr an und inszeniert das Thema "Virtual Reality (VR) für Events" in einem abgetrennten Bereich. Dort können die Besucher auf unterhaltsame und informative Weise erfahren, welche VR-Anwendungen derzeit im Veranstaltungsbereich möglich sind.
Natürlich hat PRG XL Video auch in diesem Jahr wieder speziell für den BOE-Auftritt vorproduzierten Content im Gepäck.
An beiden Messetagen wird die Technologie anhand von VR-Demonstrationen und in Einzelgesprächen mit den Spezialisten von PRG Lab nähergebracht und erläutert. Zusätzlich stehen für die Besucher verschiedene Info-Stationen mit VR-Videos bereit.
Anmeldung zur PRG VR-Experience

Da die Nachfrage erfahrungsgemäß groß ist, empfiehlt PRG XL Video eine vorherige Anmeldung unter folgendem Link:
Im öffentlichen Standbereich befindet sich das MICE-Forum der BEST OF EVENTS. Dort wird es verschiedene Vorträge zu unterschiedlichen Themen geben. Zudem wird hier über das Portfolio von PRG XL Video informiert und technische Highlights vorgestellt.
Dazu gehört zum Beispiel das preisgekrönte PRG GroundControl-Verfolger-System, das neue VL5-LED-Gadget sowie eine Green-Screen-Video-Anwendung zum Selbst-Ausprobieren.

Auf der Best of Events zu sehen: Die OZO VR-Kamera von Nokia.
Ferner wird hier die Nokia OZO VR-Kamera ausgestellt, und die PRG-Partner Gerriets, Concept4Vision und Stage Kinetik werden interessante Produkte zeigen. Stage Kinetik wird zum Beispiel das grandiose Bälleballett "Winch One" vorführen.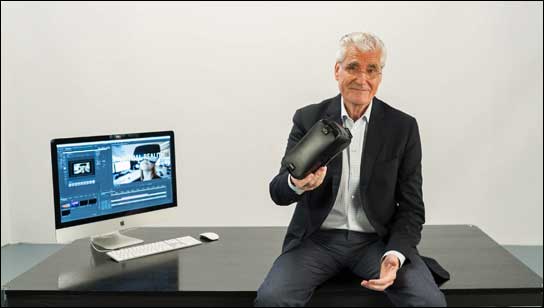 Sky du Mont im Studio von PRG XL Video.
Als VIP vor Ort wird der Schauspieler Sky du Mont am 18. Januar am Stand von PRG XL Video anwesend sein.
PRG auf der BOE 2017

Halle 5, E02