ROBE bei The Voice of Germany
15.01.2013
Manuel da Costa mit fast 200 Moving-Lights von ROBE bei "The Voice of Germany".

Die von ProSieben und SAT.1 ausgestrahlte Talentshow wurde von Schwartzkopff TV Productions und Talpa Distribution produziert und im "Am Studio 20" des Studio Berlin aufgezeichnet. Schon bei der ersten TVOG-Staffel 2011 war Da Costa für die Beleuchtung verantwortlich gewesen, und auch damals bildeten ROBE-Geräte einen Schwerpunkt seines Designs.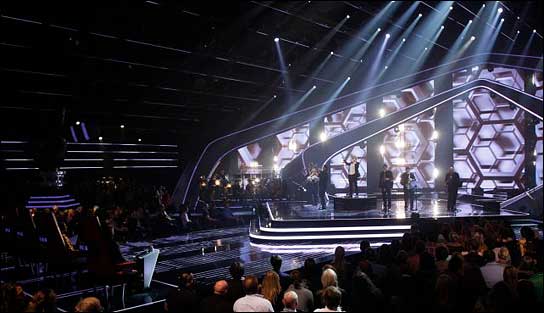 Florian Wieders Bühne, von Manuel da Costa geleuchtet. Foto: SAT.1/ProSieben/Richard Hübner.
Um eine visuelle Harmonie zu dem beeindruckenden Bühnenbild von Florian Wieder zu erreichen, entschied sich Da Costa, einer der führenden TV-Lichtdesigner Deutschlands, für insgesamt 98 ColorSpot 2500E AT, 62 ColorWash 2500E AT, 26 ColorWash 1200E AT und zwei ColorBeam 2500E AT.
74 der ColorSpot-Moving-Lights waren an den Traversen über der Bühne angebracht, die übrigen 24 hingen an Türmen hinter der Bühne und neben der zentralen Videowand. Die 88 ColorWash 2500 und 1200er waren ebenfalls in der Decke installiert.
Die beiden ColorBeam 2500E AT befanden sich mittig hinter der Videowand und erzeugten Silhouetten der Stars beim Betreten und Verlassen der Bühne. Die ColorSpot 2500E ATs und die ColorWash 2500E AT lieferten dank ihrer Leuchtstärke den Spot- und Wash-Hintergrund für das gesamte Lichtdesign.
"Verlässlichkeit, Farbe und Output der Scheinwerfer sind hervorragend", kommentiert Da Costa und fügt hinzu, dass die eingesetzten Geräte zudem sehr schnelle Bewegungen beherrschen und er besonders das geschmeidige Dimming schätzt: "Die ROBE-2500-Serie bietet insgesamt ein sehr helles und ausdrucksstarkes Licht."

Schon seit 2007 hat Manuel Da Costa regelmäßig Produkte von ROBE bei seinen Designs verwendet. Damals war er vom deutschen ROBE-Vertrieb LMP zu einer Demonstration eingeladen worden und ist seitdem von den Vorteilen des ROBE-Portfolios überzeugt gewesen.
Bei "The Voice of Germany 2012" arbeitete Da Costa mit drei Programmierern zusammen: Michael Braganz kontrollierte alle ROBE-Systeme und Moving-Lights, Uli Weiss war für die Weißlichter verantwortlich, und der Video-Content wurde von Bjoerge Block gesteuert. Falk Rosenthal von Gravity hatte das Video-Material produziert. Die ROBE-Produkte waren von MLS Magic Light + Sound aus Köln geliefert worden, Licht-Produktions-Manager war Klaus Wedig.