SCOOTER mit SGM P-5 auf Tour
26.04.2016
Auf der "Can't Stop The Hardcore Tour 2016" von Scooter setzt Jerry Appelt mit 160 P-5-Scheinwerfern von SGM die optischen Akzente.

Schon rein optisch haut auch die neue Tour von Scooter so richtig rein. Jerry Appelt und Marc Brunkhardt lassen es in Sachen Licht genau so krachen wie H.P. Baxxter und seine Jungs auf der Bühne.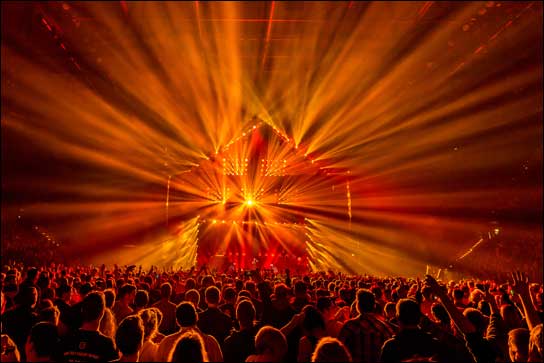 Scooter auf der "Can't Stop The Hardcore Tour 2016" - im Licht der P-5 von SGM (Fotos: Thomas Rohwedder).
Die beiden Bühnen-Designer arbeiten inzwischen seit über zehn Jahren bei vielen TV-Shows und Konzerten zusammen. Diesmal galt es besonders, das umfangreiche Setup von über 400 programmierbaren Lampen so tour-tauglich wie möglich zu machen. Der Trick: Bis auf acht Stück waren alle Scheinwerfer fest in Traversen verbaut, die erst am Tour-Ende wieder getrennt wurden.
In jedem dieser fünf Hyper-Pods waren 18 x SGM P-5 sowie weitere Moving-Lights fest in S52V-Traversen integriert. Weitere 40 x SGM P-5 kamen in der v-förmig angeordneten Fronttraverse zum Einsatz.
In den Keyboard-Risern, an der Bühnenvorderkante und im Set waren weitere 30 x SGM P-5 verbaut, um die Künstler jederzeit ins rechte Licht setzen zu können.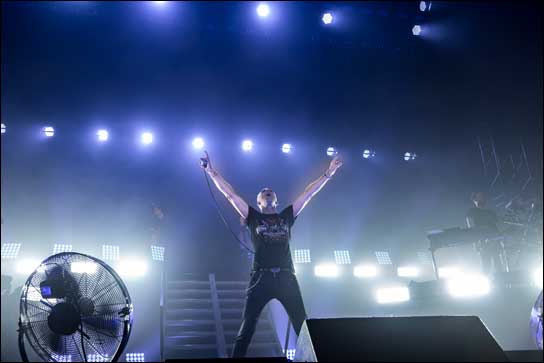 Appelt und Brunkhardt setzten dabei bewusst auf die P-5-Scheinwerfer von SGM, da diese mit ihrem relativ engen Abstrahlwinkel und der enormen Helligkeit für einen LED-Fluter gezielt und in den unterschiedlichen Bildern eingesetzt werden konnten. Mal, um den Bildern eine farbliche Note zu geben, häufiger aber als Stroboskop und Megablinder in den Hyper Pods.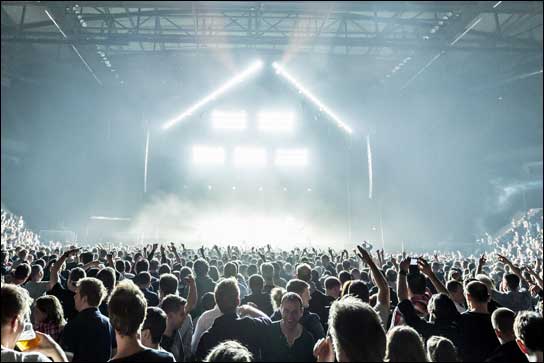 Insgesamt waren somit 160 x SGM P-5 auf der Tour dabei und lieferten eine beindruckende Lichtshow - wie auf den Bildern zu sehen. Marc Brunkhardt war für die Programmierung der Lichttechnik verantwortlich und saß während der Tour am Lichtstellpult.
Das gesamte Licht wurde von PRG geliefert, neben den 160 x SGM P-5 RGBW kamen rund 300 weitere programmierbare Scheinwerfer zum Einsatz.