Das neue Shure-Drahtlossystem erhält die höchste Auszeichnung der britischen Theatermesse.
Im Rahmen der jährlichen Association of British Theatre Technicians Veranstaltung im Londoner Alexandra Palace präsentierte Shure UK in diesem Jahr das neue Flaggschiff-Drahtlossystem Axient Digital. Gegen Ende des ersten ABTT-Tages am 6. Juni konnte sich Shure sich über den Gewinn des ABTT Theatre Award für das "Sound Product of the Year 2017" freuen.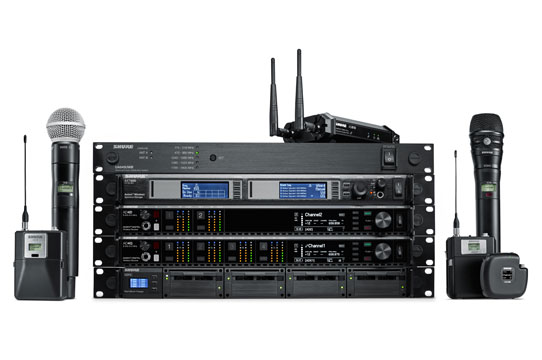 Als "Product of the Year" mit dem ABTT Award 2017 ausgezeichnet: das Drahtlossystem Axient Digital von Shure

Die ABTT Jury-Mitglieder CEO Robin Townley und die Vorsitzende Louise Jeffreys begründeten ihre Entscheidung unter anderem mit der Tatsache, dass Shure mit dem neuen, hochwertigen Axient Digital System auf die Wünsche und Bedürfnisse von Theaterprofis auf der ganzen Welt eingegangen ist.
"Das diesjährige 'Sound Product of the Year' überzeugt mit seiner Signalstabilität und Flexibilität", erläutert Robin Townley, "und hatte bei der Entwicklung von Anfang an den Endanwender vor Augen."
Das auf der diesjährigen NAB vorgestellte Axient Digital System ersetzt die bis dato marktführenden UHF-R- und Axient-Drahtlossysteme und kombiniert deren Fähigkeiten auf der aktuell innovativsten Drahtlosplattform für den Einsatz in sämtlichen professionellen Produktionen.

Mit Blick auf die permanent steigenden Kundenanforderungen – insbesondere in Umgebungen mit kritischem HF-Spektrum – bietet Axient Digital eine hohe HF-Leistung, umfassende Steuerungs- und Kontrolloptionen sowie eine außergewöhnlich klare, authentische Audioqualität. Darüber hinaus ist das System flexibel anpassbar und verfügt über zwei verschiedene Sender-Plattformen, die AD- und ADX-Serie.

Zur ADX-Produktreihe gehört der ADX1M, ein einzigartiger Micro-Taschensender mit interner, intelligenter Antenne, der die Kompromisse herkömmlicher Taschensender im Theaterbereich überwindet und bei der ABTT-Jury besondere Aufmerksamkeit erregte.

Zudem hoben Townley und Jeffreys den Dante Cue-Modus des Systems hervor, mit dem sich jeder Axient Digital-Kanal im Dante-Netzwerk über einen einzelnen Kopfhörerausgang überwachen lässt.
"Für Shure ist der ABTT Award eine besondere Ehre", kommentiert Tuomo Tolonen, Shure UK Pro Audio Group Manager, die Auszeichnung.

"Die ABTT gehört zu den renommiertesten und am besten besuchten Veranstaltungen im professionellen britischen Theaterbereich und bietet jedes Jahr eine ausgezeichnete Gelegenheit, mit den wichtigsten Personen der Branche in Kontakt zu treten. Seit Beginn unserer Planungen hinsichtlich der Veröffentlichung von Axient Digital hatte die Teilnahme an der ABTT für Shure höchste Priorität.

In der Entwicklungsphase haben wir eng mit der professionellen Theater-Community zusammengearbeitet, um zu verstehen, was die Anwender wirklich benötigen. Durch den Gewinn des Awards fühlen wir uns in dieser Herangehensweise bestätigt."