Die MULTI MEDIA Marketing und Event GmbH setzt unter anderem auf Elation beim "Tante Mia tanzt"-Festival.
An Christi Himmelfahrt gab es im Raum Vechta einen "Place to be": das Festival "Tante Mia tanzt". Das Electro-Festival mit dem ungewöhnlichen Namen zog in diesem Jahr über 16.000 Besucher in seinen Bann.
Auf einer riesigen Freifläche, dem Stoppelmarktgelände, wurden schon seit Tagen mehrere Bühnen aufgebaut und mit Technik ausgestattet. Dirk Möhlenbrock von Multi Media, verantwortlich für das gesamte Showdesign, übernahm auch dieses Jahr die kreative und technische Projektleitung.
"Gemeinsam mit unserem Team aus 25 Technikern haben wir insgesamt zwölf Trailer Material auf vier Bühnen verbaut", so Möhlenbrock.
Besonders begeistert waren alle von den neuen Elation Paladin, die erstmals zum Einsatz kamen.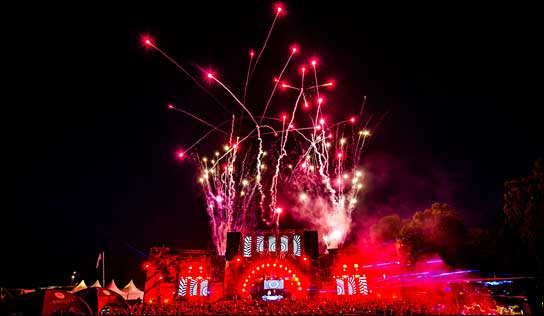 Viel Show für Electro-Fans: "Tante Mia tanzt" (Foto: Tante Mia tanzt Festival)
"Wir setzen schon seit über fünf Jahren auf Produkte von Elation", sagt Multi Media-Geschäftsführer Georg Reuber.

"Hier stimmt einfach das Preis-Leistungsverhältnis, und dies sorgt für einen frühzeitigen return of investment."
Neben den Paladin kamen auch Fuze Wash Z350, Platinum Spot 15R, Platinum Wash ZFX Pro und SixPar 200 von Elation zum Einsatz.
Den ganzen Tag über gab es für Fans der Electro-Szene volles Programm, unter anderem mit den Top Acts Frequencerz, Sigala, Icona Pop und Yello Claw. Auch 2018 wird "Tante Mia" wieder mit Multi Media tanzen.