Verfolger vom Boden aus steuern
03.11.2016
GroundControl-Followspot-System von PRG bereits im Einsatz beim Deutschen Radiopreis.

Um die Akteure auf der Bühne in Szene zu setzen, ist vor allem bei dem Einsatz von Truss Follows ein großer Aufwand erforderlich. Es sind eine Reihe an Sicherheitsvorkehrungen zu beachten, es muss ausreichend Platz für den Followspot-Operator vorhanden sein, Traversen müssen für größere Lasten ausgelegt werden, und die Spot-Fahrer verharren oftmals stundenlang in ihren Traversensitzen – inklusive aller Nachteile, die das mit sich bringt. Für Truss Follows ist in der Regel ein recht hoher Planungsaufwand erforderlich. Mit dem neuen GroundControl-System haben Veranstalter jetzt ganz neue Möglichkeiten!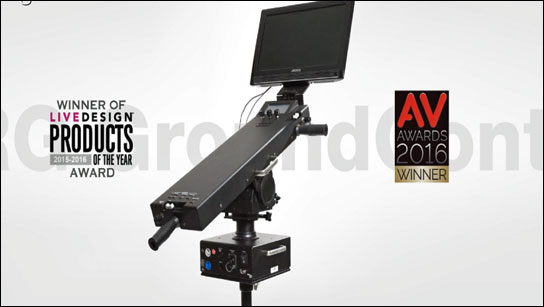 Schluss mit der Strickleiter: Jetzt wird der Verfolger vom Boden aus gesteuert.
Dank des neuen Systems von PRG sitzen die Followspot-Fahrer nun nicht mehr in ihren Traversensitzen über dem Publikum fest, sondern können die Spots, dank der GroundControl Remote Unit, von überall in der Location bedienen.
Das System verfügt über einen Videomonitor, der das zeigt, was die am Followspot angebrachte HD-Kamera überträgt. Der Followspot-Fahrer sieht also genau die Perspektive, die er bisher hatte, wenn er an seinem Followspot stand oder saß.
Auch Verfolgerpositionen, die man nur schwer oder gar nicht in der Veranstaltungslocation unterbringen kann, sind jetzt problemlos möglich, denn man braucht nicht mehr Platz, als ein Verfolger in Ansprich nimmt.
Alles in allem ein verbesserter Arbeitskomfort, deutlich mehr Sicherheit und deutliches Sparpotential für den Veranstalter. Durch die Möglichkeit über eine Matrix auf verschiedene Spots zuzugreifen, können einzelne Followspot-Fahrer sogar GroundControl-Spots an verschiedenen Positionen bedienen.
Bedienung von Followspots revolutioniert
Das GroundControl wurde bereits bei den renomierten AV Awards 2016 als "Production Product of the Year" ausgezeichnet.
Wie das GroundControl System funktioniert und warum es bei Veranstaltungen und TV-Produktionen bald nicht mehr wegzudenken ist, sehen Sie in folgendem Video:
Für lange Distanzen hat PRG mit dem Followspot "Longthrow Luminaire" ein weiteres GroundControl-Produkt entwickelt, das auf der diesjährigen LDI 2016 in Las Vegas vorgestellt wurde.
Weitere Informationen:

http://www.prg.com/de/de/menue-veranstaltungstechnik/prg-groundcontrol-followspot-system