Robbie Williams "Take The Crown"-Tour mit Technik von XL Video.
XL Video setzt seine lange Zusammenarbeit mit Robbie Williams auch für die aktuelle "Take The Crown"-Tour fort, die ihn bis zum 25. August durch die großen Stadion in Europa führt. Allein das Wembley-Stadion in London konnte Robbie Williams vier Mal ausverkaufen. Für die Produktion stellt XL Video nicht nur die Crews für Kameras, Bildbearbeitung und Projektionen zur Verfügung, sondern liefert auch 46.000 Barco FLX-24-Pixel, ein HD-Kamera-System, D3-Mediaserver von United Visual Artists sowie IMAG-Bildschirme. Zur Vorbereitung der Tournee arbeitete Project-Manager Phil Mercer von XL Video eng mit Wob Roberts, dem Production Manager von Robbie Williams, zusammen.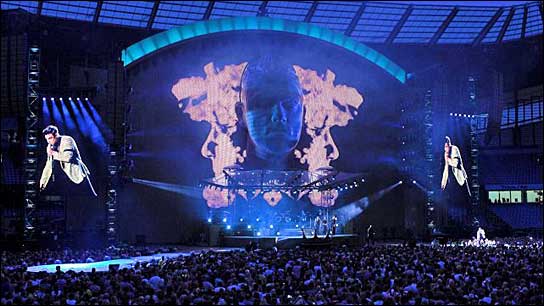 Robbie Williams auf seiner "Take The Crown"-Tour; Foto: Louise Stickland / XL Video.


Für den Mix der Live-Bilder auf den Screens sorgt Stefaan "Smasher" Desmedt in permanenter Abstimmung mit Lichtdesigner Willie Williams und hat dafür mehrere Abspielflächen zur Verfügung: zwei Screens links und rechts der Bühne für Live-Bilder sowie eine riesige Videowand im Bühnenhintergrund inklusive einem integrierten dreidimensionalen Modell vom Kopf des Künstlers – entworfen von dem Set-Designer Mark Fisher und gebaut bei TAIT in Belgien. Der 3D-Kopf von Robbie Williams mit einer Höhe von 12,6 Metern und einer Breite von 7,5 Metern ist von zentraler Bedeutung für die Theateroptik der Bühne und wurde aus einem Scan vom Kopf des Künstlers modelliert. Überzogen ist er mit den 46.000 FLX-24 Videopixeln. Die Bespielung erfolgt per Video-Mapping.

Dafür war eine aufwändige zweimonatige Vorarbeit in "Handarbeit" erforderlich, die Stefaan "Smasher" Desmedt mit der Maya-Software realisierte. Anschließend erfolgte die Übertragung des vorproduzierten Contents in die D3-Server. Desmedt und der Videokünstler Luke Halls von Treatment aus London entwickelten daraus verschiedene Einspieler, die während der Show Timecode-gesteuert ablaufen und damit den Haupt-Screen und den 3D-Kopf versorgen.

Die beiden Screens links und rechts der Bühne im Porträtformat mit 8,1 Metern Höhe und 5,4 Metern Breite bestehen aus dem Material Pixled F-11. Für die Aufnahmen während der Show lieferte XL Video acht Grass Valley LDK-8000-Kameras. Vier dieser Kameras haben feste Positionen auf der Bühne und – ausgestattet mit langen Brennweiten – am FOH. Die anderen Kameras kommen mobil zum Einsatz. Alle Bildsignale laufen auf dem Grass Valley Kayak-Mischpult von Stefaan "Smasher" Desmedt auf, der die entsprechenden Bilder nach dem Schnitt direkt auf die IMAG Screens sendet.

Für die Tour von Robbie Williams stehen Stu Heaney, dem Crew-Chef von XL Video, zehn Teams zur Verfügung.