Am 16. und 17. Januar 2013 findet in Dortmund die BEST OF EVENTS INTERNATIONAL statt. Weitere Infos und ein Messeführer als App.
431 Aussteller aus 14 Ländern präsentieren sich vom 16. bis. 17. Januar in den Dortmunder Westfalenhallen. Dabei ist der Anteil der ausländischen Aussteller gegenüber dem Vorjahr um 55 Prozent gewachsen, was zum einen auf die Bedeutung des deutschen Marktes hinweist, zum anderen viele spannende Entdeckungen für die Besucher verspricht. Im letzten Jahr waren es 410 Aussteller aus neun Ländern.

Bea Nöhre vom Messeveranstalter sagt: "Vor allem in den Angebotskategorien Messe- und Eventbau (plus 66 Prozent), Veranstaltungstechnik (plus 36 Prozent) und Event-Services (plus 13 Prozent) können wir gegenüber dem Vorjahr Zuwächse verzeichnen."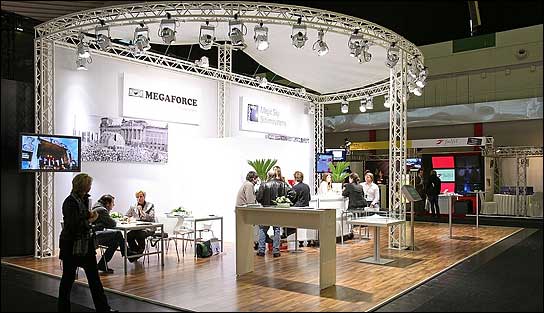 Auch Sie sind in Halle 4 wieder dabei: MEGAFORCE auf der BOE.
Neue "LIVE Halle 6"

Zur BOE 2013 ist Ausstellern aus dem Bereich Performances & Entertainment erstmalig ein eigenständiges Ausstellungsareal in Halle 6 gewidmet. Mit dieser klaren Gliederung sind die Anbieter aus diesem Bereich konzentriert zusammengefasst, und den Fachbesuchern wird damit die Orientierung erleichtert. Attraktive Specials auf der LIVE-FORUM Bühne wie Fachvorträge und Präsentationen sowie LIVE ACTS an den Messeständen runden das Angebot der "LIVE Halle 6" ab.


Das Rahmenprogramm

Die BOE wird von einer Reihe hochkarätig besetzter Fachforen und dem BOEXPERIENCE-FORUM ergänzt. Bei zahlreichen Vorträgen erhalten die Teilnehmer nützliche Informationen, Tipps und neue Denkanstöße. Das Programm besteht in diesem Jahr aus drei Schwerpunktveranstaltungen:
BOE-FORUM (Halle 4)
BOE-LIVE-FORUM (Halle 6)
BOEXPERIENCE-FORUM (Saal 30)
BOE 2013 mit eigener App

Für iPhone, iPad, Android Tablets und weitere Smartphones steht die BOE-App zum Download bereit. Mit der BOE-App kann der Besuch der BOE 2013 optimal vorbereitet werden.

Die BOE-App enthält alle wichtigen Fakten und Daten zur Messe, zu Ausstellern und Kategorien, Programm und allgemeine Serviceinformationen. Im Ausstellerverzeichnis A-Z finden sich sämtliche Kontaktdetails der Aussteller. Der interaktive Gelände- und Hallenplan ist die perfekte Orientierungshilfe auf dem Messegelände. Mithilfe des integrierten Business Matchmaking Tools "Seroki" können gezielt Termine vereinbart und wertvolle Kontakte geknüpft werden.

Vor allem während der Messe wird dieses mobile Service-Angebot, das die BEST OF EVENTS GmbH bei der Mobile Event Guide GmbH in Auftrag gegeben hat, zum Tragen kommen. So ist der interaktive Gelände- und Hallenplan die perfekte Orientierungshilfe auf dem Messegelände.

Per Touch kann der Besucher in die einzelnen Hallen springen, dank stufenlosem Zoom auf einzelne Stände gehen und erhält alle relevanten Informationen zu Ausstellern sowie die von ihm angebotenen Kategorien.

Außerdem sind im Programm-Bereich alle Informationen zum Kongress BOEXPERINCE FORUM, zu den FOREN in Halle 4 und Halle 6 und den LIVE-ACTS der BEST OF EVENTS INTERNATIONAL nach Angebotskategorie und Tagen sortiert aufgeführt.

Dank der umfassenden Integration von Kalender und GoogleMaps werden iPhone oder iPad der perfekte Wegbegleiter auf der BOE 2013.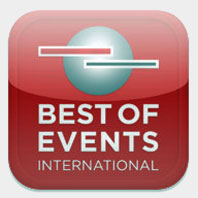 Zu den BOE Apps geht es hier.


Zur iPhone App direkt geht es hier.
---

Messe-Daten

Die BEST OF EVENTS INTERNATIONAL 2013 findet am 16. Januar von 10.00 bis 18.00 Uhr und am 17. Januar von 10.00 bis 17.00 Uhr in der Messe Westfalenhallen Dortmund statt. Die BOE-NIGHT wird 2013 im Goldsaal des Kongresszentrum Westfalenhallen Dortmund veranstaltet. Alle Tickets für die BOE 2013 können einfach und schnell im BOE-Online-Ticketshop über Kreditkarte erworben werden.

www.boe-messe.de
 
Suchen Sie nach bestimmten Ausstellern? Dann sind Sie hier richtig.