Mit neuen Lösungen rund um Digital Whiteboards, Collaboration, Touch-Monitore und LED-/Laserprojektoren kommt ViewSonic zur ISE 2019.
Auf der diesjährigen ISE zeigt ViewSonic mehr als 20 neue Produkte aus allen Produktlinien, darunter interaktive digitale Whiteboards, intelligente Laser- und LED-Projektoren sowie eine Vielzahl neuer Touch-Monitore.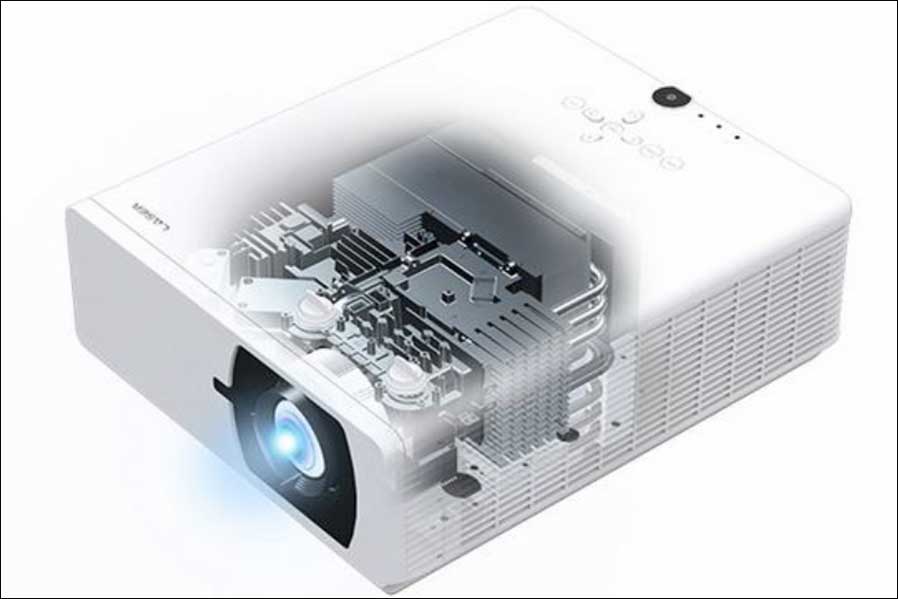 Verbinden und zusammenarbeiten
Das Thema "Connect and Collaborate" zieht sich durch die gesamte ViewSonic-Produktlinie, die auf dem Messestand präsentiert wird. Es steht für die drahtgebundene oder drahtlose Vernetzung verschiedener Display-Produkte über die myViewBoard-Plattform.
Direkt am Messestand wird ViewSonic demonstrieren, wie mit der myViewBoard-Lösung Inhalte über verschiedene Displays oder Geräte an mehreren Standorten in Echtzeit geteilt und kommentiert werden können.
Das Ökosystem des digitalen Whiteboards
Das Highlight auf der ISE 2019 wird das - so der Hersteller "Digital-Whiteboard-Ökosystem" "myViewBoard" sein, das ein erstklassiges digitales Whiteboard-Erlebnis auf mehreren Plattformen bietet.
Das "myViewBoard-Ökosystem wurde mit Blick auf eine Open-Source-Philosophie entwickelt", so Viewsonic, und es unterstützt die Integration von Google G Suite und Microsoft Office 365. Dadurch lässt es sich an jedes Unternehmen oder jede Institution unabhängig von der Browser-Präferenz anpassen und steht zudem als mobile App bereit, zur Umsetzung von BYOD-Implementierungen.
"myViewBoard" kann sich nahtlos in jeden Meeting-Raum integrieren und unterstützt die gemeinsame Nutzung an mehreren Standorten, vom Meeting-Raum bis hin zum großen Konferenzraum. Darüber hinaus erfüllt die Authentifizierung höchste Anforderungen an die digitale Datensicherheit. Das myViewBoard On-Boarding ermöglicht es IT-Profis, sich zum Beispiel mit Microsoft Azure per Active Directory zu integrieren und bietet umfangreiche Funktionen wie Benutzer-Verteilung, -Management und "Single Sign-On".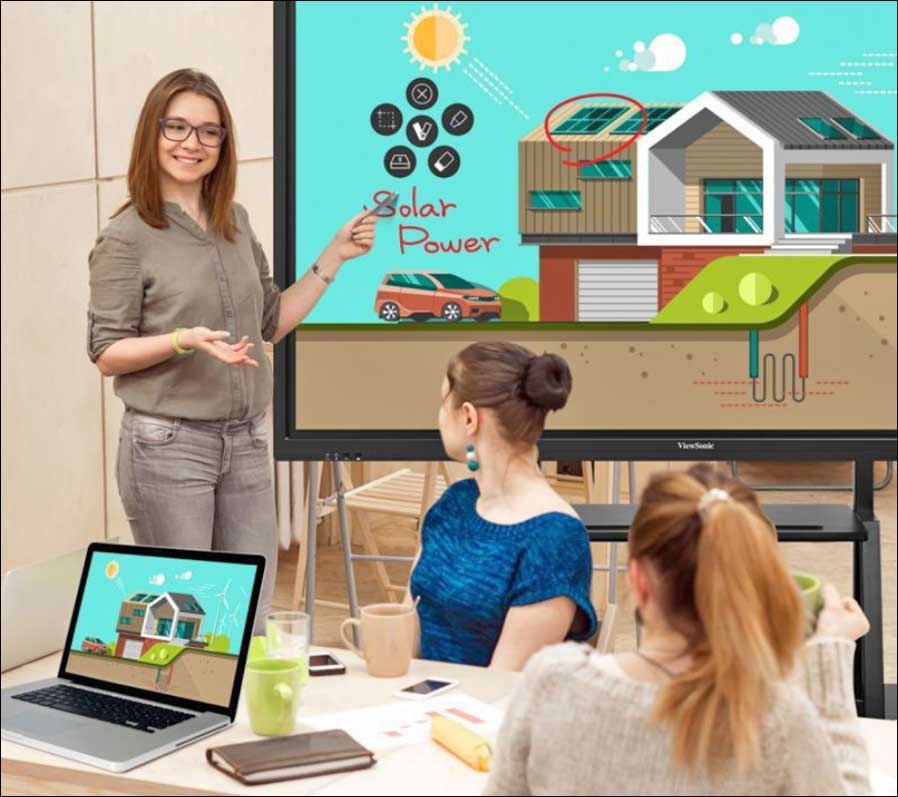 Erweitertes Klassenzimmer
"SCALE-UP" (Student Centred Active Learning Environment with Upside-down Pedagogies) ist ein aktiver Lernmodus, der eine ansprechendere Alternative zu traditionellen Vorlesungen bieten soll.
Visuelle Touch-Lösungen und -Technologien werden dabei für den Unterricht in einem "SCALE-UP"-Klassenzimmer herangezogen. Dabei kommt ViewSonics Annotationslösung ViewBoard S zum Einsatz, ein 27-Zoll-Präsentations-Touchscreen, der an eine Vielzahl von Bildschirmen, IFPs und Projektoren angeschlossen werden kann und die Face-to-Face-Interaktion zwischen Referent und Publikum ermöglicht

Darüber hinaus stellt ViewSonic Collaboration-Lösungen vor, mit denen sich Inhalte von mehreren Geräten per Knopfdruck drahtlos verbinden und teilen lassen.
ViewBoard-Serie mit fortschrittlicher Touch-Technologie
Um den Benutzern ein reibungsloses und reaktionsschnelles Touch- und Schreiberlebnis zu bieten, präsentiert ViewSonic seine neueste Generationen von "ViewBoards". Das sind interaktive Flachbildschirme mit verschiedenen fortschrittlichen Touchtechnologien, die dem natürlichen Schreibstil des Benutzers entsprechen sollen.
ViewSonic integriert als einer der ersten "InGlass Touch" und erweitert dies nun auch um die "PCAP"-Technologie (Projected Capacitive Touch). Diese wurde bislang typischerweise in Smartphones und Tablets eingesetzt, kommt nun aber auch für größere Bildschirme zum Einsatz.
Das Ganze basiert auf einem leitfähigen Gitter, das Veränderungen in seinem elektromagnetischen Feld durch die Berührung mit dem Finger erkennt. PCAP ist sehr präzise und kann bis zu 60 Touchpoints anzeigen. ViewSonic wird dieses Produkte von 55 bis 86 Zoll anbieten.
LED-Projektoren der X-Serie
ViewSonics neueste Reihe von intelligenten, LEDbasierten All-in-One-Projektoren umfasst drei neue Modelle, die drei verschiedene Projektionsverhältnisse abdecken, alle mit integrierten Lautsprechern von Harman Kardon.
Die Projektorenreihe wurde als platzsparende Lösung für den Wohnraum und eine maximale Projektionsgröße entwickelt. Damit steht ein All-in-One-Heimkino-System zu einem attraktiven Preis zur Verfügung.
Die neuesten intelligenten Projektoren von ViewSonic sind in der Lage, 4K-UHD-Inhalte wiederzugeben. Sie verfügen über einen integrierten Media-Player und WLAN, um Inhalte direkt von beliebten Plattformen wie Netflix, YouTube, Amazon Prime und Twitch zu streamen.
Die X-Serie ist kompatibel mit der Sprachsteuerung von Amazon Echo und verfügt über Bluetooth zur Verbindung mobiler Geräte.
Monitor-Erlebnisraum auf der ISE
ViewSonic wird in diesem Jahr auf der ISE die gesamte Palette der Business-Touch-Monitore, ergonomisch gestalteter Office-Monitore sowie die Flaggschiffe der farbgenauen professionellen Monitore der VP-Serie zeigen.
Weitere Infos
ViewSonic auf der ISE 2019