Die ProAV-Branche prämiert die besten Installationen und Produkte des Jahres: The AVard geht in die zweite Runde. Am 4. November in Düsseldorf.

Die Preisverleihung des The AVard 2021 findet am 4. November 2021 im Rahmen eines glamourösen Networking-Events mit Gala-Dinner in Düsseldorf statt. Sie bietet eine hervorragende Gelegenheit, nach einem turbulenten Jahr die AV-Branche endlich wieder persönlich zu treffen.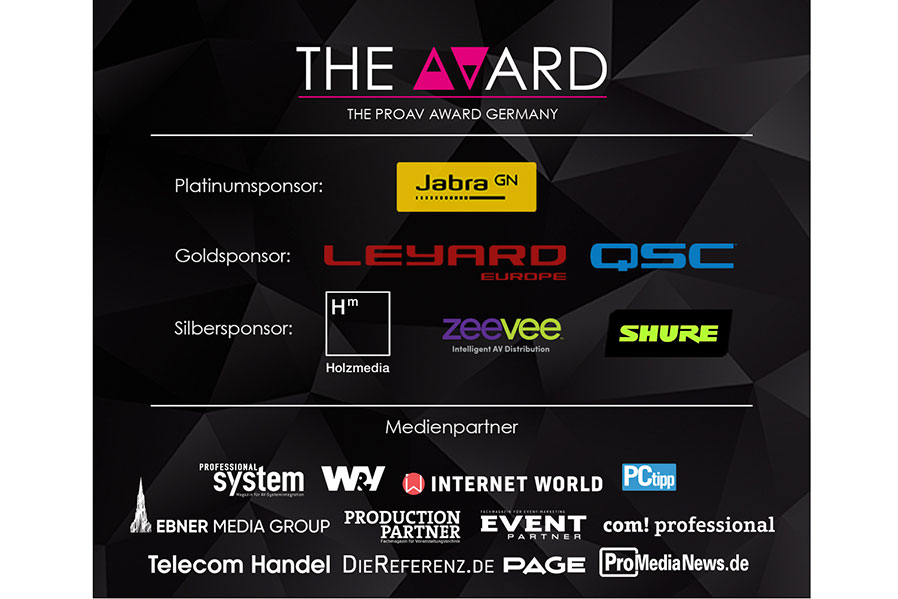 Ein Fest nicht nur für die Gewinner: Gala-Dinner rund um The AVard

The AVard ist der erste ProAV-Award in Deutschland und zeichnet die besten Projekte, Produkte und Köpfe der Branche aus, um die Leistungen der ProAV-Branche einer größeren Öffentlichkeit bekannt zu machen.
Aus mehr als einhundert Einreichungen wählten eine Fachjury und die ProAV-Community die besten Projekte, Produkte und Köpfe aus, die an diesem Abend die begehrte Trophäe erhalten werden. Zum zweiten Mal wird der Lifetime Achievement Award verliehen – eine ganz besondere Auszeichnung.
Für die Teilnahme können einzelne Tickets oder direkt ein kompletter Tisch gebucht werden, um einen besonderen Abend mit den Kunden zu verbringen. Die Veranstaltung findet im Rahmen der 2G-Optionen statt: Der Zugang zur Veranstaltung ist nur vollständig Geimpften oder Genesenen vorbehalten.


Early Bird-Tickets können bis zum 13.10.2021 gesichert werden: