DTEN ONboard wurde für das neue Zoom Whiteboard entwickelt und ist ab sofort im Raum EMEA erhältlich.

Das preisgekrönte Gerät setzt kollaborative Akzente in bestehenden Videoräumen und ermöglicht eine gleichberechtigte Zusammenarbeit am hybriden Arbeitsplatz.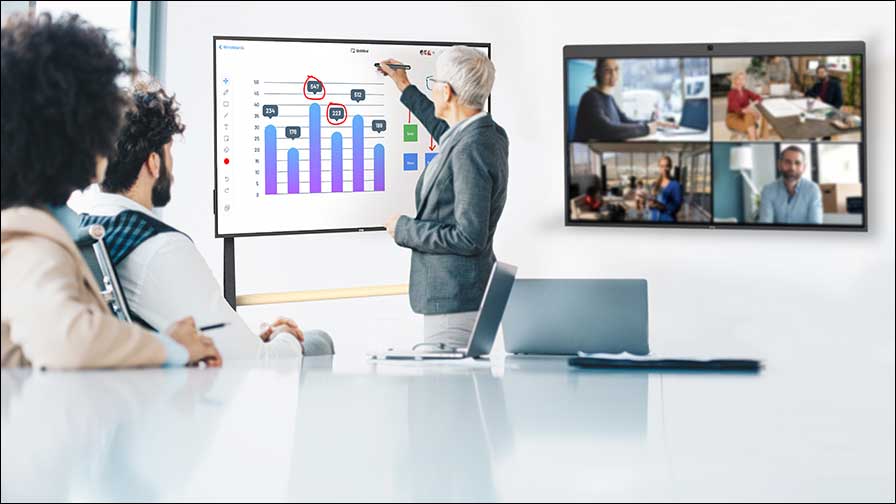 DTEN ONboard, eine neue Collaboration-Lösung des schnell wachsenden Unternehmens DTEN, ist jetzt in der gesamten EMEA-Region verfügbar und ab heute über Vertriebspartner erhältlich. DTEN ONboard wurde in Zusammenarbeit mit Zoom entwickelt und verbessert die Zusammenarbeit durch sein modernes, touchfähiges 55-Zoll-Display, mit dem Teilnehmer im Raum und remote gleichermaßen interagieren können. Die neue Lösung wurde bereits im Vorfeld der Veröffentlichung mit drei wichtigen Branchenpreisen ausgezeichnet.
Nia Celestin, Head of Marketing DTEN:

"DTEN ONboard in Verbindung mit Zoom Whiteboard wird schnell zum Herzstück der Zusammenarbeit im Team, insbesondere in Besprechungsräumen, die mit herkömmlicher Videokonferenztechnik ausgestattet sind. Das virtuelle, gemeinsam genutzte Whiteboard fördert die gleichberechtigte Zusammenarbeit und bietet allen Meeting-Teilnehmern die Möglichkeit zur Interaktion, unabhängig vom Standort."
Viele Unternehmen haben bereits in Videokonferenzsysteme investiert. DTEN ONboard ergänzt die bestehenden Systeme um moderne, interaktive Touch-Funktionen und wertet sie damit auf. Es lässt sich leicht in jedes Zoom Rooms-Gerät integrieren, zum Beispiel in Videobars, und ermöglicht sofort interaktive Berührungen mit der Möglichkeit, zu zeichnen, Ideen zu entwickeln, Notizen zu machen und Meeting-Inhalte zu organisieren.
Scott Krueckeberg, Head of Strategic Alliances bei DTEN:

"DTEN ONboard ist ein Beispiel für unsere beständige Partnerschaft mit Zoom. Dank der engen Zusammenarbeit beider Unternehmen haben wir es geschafft, dass DTEN ONboard die leistungsstarke Funktionsvielfalt des neuen Zoom Whiteboards voll ausschöpft."
Zu den zahlreichen Funktionen des Geräts gehören Berührungsfunktionen in Echtzeit für Brainstorming, Visualisierung und zur Darstellung von Ideen, eine erweiterbare, digitale Leinwand für die Zusammenarbeit, einfaches Teilen per E-Mail oder Zoom-Chat und ein dauerhafter Hub, damit Ideen auch nach dem Ende eines Meetings weiterentwickelt werden können. DTEN ONboard ermöglicht auch den Einsatz der Visualisierungstools des Zoom Whiteboards, wie etwa Haftnotizen, Formen und Verbindungen sowie Drop & Drag von Bildern.
DTEN ONboard ist auf Vielseitigkeit ausgelegt und kommt unter anderem in folgenden Anwendungsfällen zum Einsatz:
• als eigenständige Collaboration-Anwendung
• in Klassenzimmern und auf dem Campus
• für Digital Signage über den Kiosk-Modus von Zoom Rooms
• für die Reservierung von Arbeitsplätzen und Besprechungsräumen mit Zoom Workspace Reservation
Die Flexibilität des Geräts, die überragende Benutzererfahrung und die schlanke Ästhetik trugen dazu bei, dass DTEN ONboard mit dem Red Dot Product Design Award 2022, dem Best of Enterprise Connect for Meeting Room Innovation und dem Best of Show InfoComm 2022 Award der Zeitschrift Installation ausgezeichnet wurde.

"Die Auszeichnungen und die Berichterstattung in den Medien bestätigen, wie wertvoll DTEN ONboard für den hybriden Arbeitsplatz ist, da es eine effektive, produktive und integrative Zusammenarbeit ermöglicht", so Celestin. "Wir freuen uns, dass es jetzt für alle erhältlich ist."
DTEN ONboard ist ab sofort für einen Preis von 2.999,99 € über DTEN-Vertriebspartner erhältlich.