L-Acoustics präsentiert auf der Prolight + Sound 2019 die neue Touring-Serie, Demos zur L-ISA Technologie und mehr.

L-Acoustics präsentiert in Frankfurt auf neuer Ausstellungsfläche und in neuer Hallenumgebung zahlreiche neue Produkte, Demovorführungen und Events.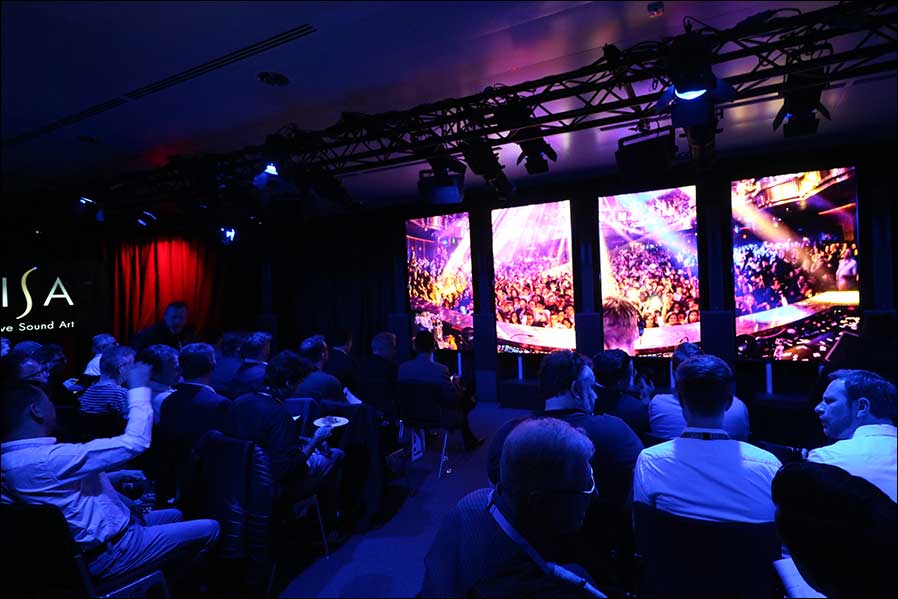 L-Acoustics bietet auf der PL+S 2019 dreimal täglich bietet L-ISA Demovorführungen an
Nach der Weltpremiere des kompakten und wetterfesten X4i Koaxial-Lautsprechers für den Installationsmarkt zeigt L-Acoustics auf der Prolight + Sound 2019 seine neue Serie an skalierbaren Lösungen für den Rental-Markt.
Von Dienstag bis Donnerstag, jeweils um 12.00 Uhr, lädt L-Acoustics Pressevertreter und weitere Interessenten zu einem offen zugänglichen Briefing im L-Acoustics Demoraum ein.
Jochen Frohn, Director of Business Development bei L-Acoustics

"Auch in diesem Jahr freuen wir uns, unsere Kunden und Partner sowie alle Messebesucher im Rahmen dieses bedeutenden Branchentreffs in Frankfurt am Main begrüßen zu dürfen. 2019 richten wir den Fokus insbesondere auf unsere neue Touring-Produktserie, die professionellen Nutzern erschwingliche und skalierbare Lösungen für unterschiedlichste Anwendungen bereitstellt."

Nachdem die Demos der L-ISA Immersive Hyperreal Sound-Technologie auf der letztjährigen Prolight + Sound sowie zu Beginn des Jahres im Rahmen der NAMM und ISE bis auf die letzten Plätze gefüllt waren, werden die Vorführungen in Frankfurt am Main mehrmals täglich angeboten – es gilt das Prinzip "First Come, First Seated".
Die Präsentationsinhalte der Demovorführungen wurden eigens für die Prolight + Sound überarbeitet. Darüber hinaus können die Messebesucher am 2. April im Rahmen des Prolight + Sound Interactive Technology Forums einem Vortrag von Etienne Corteel, L-Acoustics Director of Scientific Outreach, zur Skalierbarkeit von Immersive Hyperreal Live-Erlebnissen beiwohnen.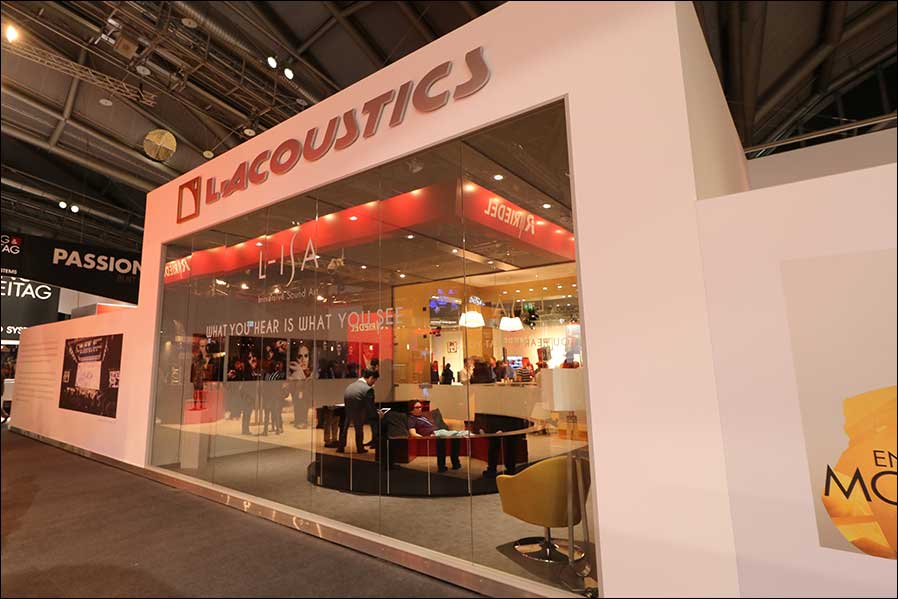 L-Acoustics Messestand auf der Prolight + Sound 2018 - 2019 zieht L-Acoustics mit seinem Messestand in die Halle 8.0, Stand H85 um
Weiterhin werden die Milan-Mitglieder der Avnu Alliance aktuellen Neuigkeiten bekannt geben. Am Dienstagabend veranstaltet L-Acoustics ein spezielles Milan-Event, auf dem der Hersteller die neue Netzwerk-Initiative sowie die technischen Eigenschaften und Besonderheiten des Milan-Protokolls umfassend erläutert.
L-Acoustics Veranstaltungskalender - Prolight + Sound 2019
(Demoraum Symmetrie 2+3 in der Galleria neben Halle 8.0)
News-Briefing
Dienstag 2. April bis Donnerstag 4. April, täglich um 12.00 Uhr
Präsentation: Neue Produktserie
Täglich um 11.00*, 14.00 und 16.00 Uhr
*mit Ausnahme Dienstag, 2. April
L-ISA Immersive Hyperreal Sound Demovorführungen
Täglich um 13.00, 15.00 und 17.00 Uhr*
*mit Ausnahme Dienstag, 2. April
Interactive Technology Forum, L-Acoustics-Präsentation
mit Etienne Corteel, Director of Scientific Outreach
Dienstag 2. April, 10.00 Uhr, Halle 4.0 / Raum Konsens
Milan / Avnu Alliance Event
(veranstaltet von L-Acoustics),
Dienstag 4. April, 17.00 Uhr, L-Acoustics Demoraum Symmetrie 2+3
L-Acoustics auf der Prolight + Sound 2019
Halle 8.0, Stand H85 und Demoraum Symmetrie 2+3, Galleria